Jordan, part of the cradle of civilization, the "other side of the Jordan" from biblical baptism stories. A modern invention of imperialism and one of the oldest aviation hubs in the Middle East.
As a young man, before Emirates, Qatar and Etihad existed, there stood an aviation core that was a vanguard of flying in the region. Before Abu Dhabi featured on any airline timetable, there was Amman! I recall a little town with an airport in a hilly area.
VC10.net lists Amman as an important stop in the 1960s on BOAC routes
Even before that, aviation was a common tongue in the country whose young king got his wings and made flying a hobby and passion for the elite of the Middle east.
His efforts lead him to build a new airport in the dessert south of Amman, named after his wife Queen Alia and that airport still stands as the country's main gateway to the world. Among aviators, it has been said that Hussein asked for the airport to have two runways like Heathrow and two taxiways in the middle to form an H, his initial. This rumor still persists despite his death almost two decades ago.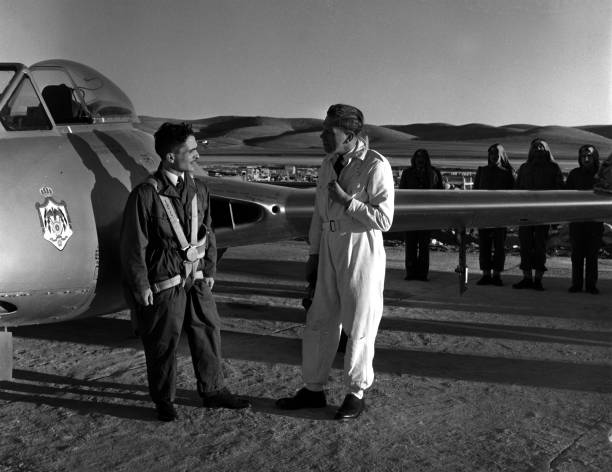 I have flown throughout this region for a while now and I was always impressed how things improve from a year to the next and even from one month to the next. We saw a new Airport pop-up in Doha, an extensive and amazing development of Dubai Airports (whether Dubai International or Dubai Central- aka Al-Maktoum), this is also followed by new Terminals or runways in Cairo, Kuwait and Muscat.
At the same time,  I feel pity when I operate into Jordan. While they brandished a brand new terminal which looks stunning, the airports deteriorated. The British built Amman Airport of yesteryear has apparently failed to be maintained. The regulator closed it off from civilian use.
In the Middle East, there is no FAA, Aviation safety is not looked at in a whole manner, Civilian authorities mange Civilian operations and Military aviation do as they please.
I was talking to a friend of mine in Amman who told me he burns so much gas by planning his alternate on Aqaba (the southern port city 400 Kilometers away), he would rather just fly with no alternate. Something you rarely hear from sober pilots.  Jordan had three airports and now operates with two, thanks to some bureaucrats who failed to do their Job. I asked if the media heard of it, he said the regulator has no authority to do anything to the company that manages the ancient airport. Both fall under one ministry that considers aviation a burden.
On my latest trips to Amman, I literally felt that the Middle East have "flown" past Amman in aviation, they still lingered in 1980s problems. I had flown in to find the airport fogged in while the weather forecast indicated that we will be in clear skies. My co-pilot told me that the forecasters of Amman are as reliable as Chocolate Teapots. I had to chuckle although I had little fuel to hold
There was a NOTAM out that told me the city airport is available for emergency use only, so I decided to check with the controller what the issue is. I asked him on the frequency and his reply was "the airport is not safe, but if you declare emergency I can send you there."
The last thing any pilots wants to hear is a controller that wants to "send" you to an airport that is "not safe." On the ground, the airport was assumed to be a CAT II airport which means that we get more markings and lights to lead us in cases like fog. Exactly what I needed. Needless to say that the light were regular ol' run of the mill lights and markings, what is called CAT I.
I called that same friend who flies locally and he said "use the north part of the airport, that is a real CAT II runway and taxiway." I asked our station staff and they told me that the regulator can't do anything about this airport as well, as they are foreign investors.
Regulatory oversight is what makes or breaks aviation. I recall flying into Amman a few decades ago and being welcomed by a senior inspector who spoke fluent English and was knowledgeable enough to find a discrepancy in our manuals that he wrote back to base about. I was treated graciously and it was one the most remarkable inspections I witnessed despite the finding. Those were the days! Today, I am lucky if I can get the controller to understand English in the 1980s tower. Thirty-odd years after the airport opened, you would assume that they can get their papers in order.
Speaking of papers, out of the army that attacks my aircraft to turn it around, I saw three gentlemen access the aircraft from the main door. When I asked for their credentials, our station staff asked me to stay back and he will deal with it. These three individuals wore no identification marks and they told him they were "intelligence services" as he translated. They didn't look very intelligent to me, but appearances can be deceiving, the fact that they reached the aircraft with no visible ID was both scary and interesting.
The regulator again has no authority over these issues because the "intelligence services" have more leverage in the country according to our station staff. He discouraged me from filing a report because that get him in trouble.
On the way out of Amman, a few days ago, I called the controller to report a crack in the taxiway that was clearly affecting the integrity of the taxiway. I was surprised to hear the controller tell me "we told management about it many times but nothing happened."
This was the breaking straw for me, I made sure to take another taxiway and made sure to note this in my little black book for my next flight, if there ever is one. I also made a mental remark about the level of frustration of the staff and the lack of integrity in their approach to safety management. If the controller or station staff feel that their message is not being received or will get them in trouble, do you expect them to report real issues when they arise? I doubt it.
I wrote back to the almighty power that decides where I fly and requested to add this airport to my no-fly-list. A list that includes some African hell-holes for health concerns, one South American Airport for security reasons, and as of today Amman for safety reasons.
However, I can't wait to visit this magnificent country which hosts Petra, the Dead Sea and many little wonders of the deserts and hills.